Medtecs OMO Acne Patch Praised for Effectiveness in Treating Acne Problems for All Skin Types
Medtecs OMO Acne Patch, a biocompatible product that is non-toxic, drug-free and latex-free, is effective in dealing with acne problems for all types of skin.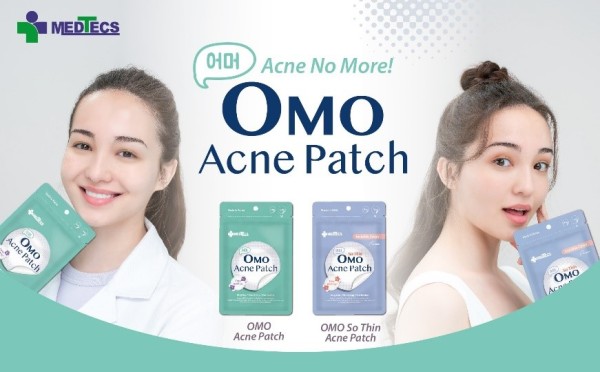 With the commitment to protect and improve the world's health, Medtecs recently launched Medtecs OMO Acne Patch on Amazon that comes with a patented design to offer consumers with better acne treatment and user experience. The invisible cover provided by the patch is also perfect for all skin tones. Established in 1989, Medtecs is the world's leading provider and distributor of personal protective equipment (PPE) and has since established a strong presence in the United States, Europe, and Asia Pacific.
Unlike other acne patches that are commonly found on the market, the patented design of OMO Acne Patch ensures that the patch is easy to peel and avoids direct hand contact to minimize contamination. The bevelled patch allows it to stay on the face for hours on end with better invisibility and absorption power compared to other patches.
Some other key features of Medtecs' OMO Acne Patch include:
– Non-toxic, drug-free, latex-free, and biocompatible. OMO is made entirely of medical-grade absorbent hydrocolloid.
– Patented "Peel Easy" design for users to peel-and-stick, offering a whole new user experience. Apply these patches directly to the areas that need treatment. They can be easily peeled off from the sheet. Users never have to come into contact with the dressing, minimizing contamination in the process.
– Fits well with all skin tones and is hardly detectable on the user's face given its invisible-matte outer layer and bevel design.
– Effectively draws out pus and impurities out from the whiteheads to flatten acne and hasten healing.
– Sticks securely on the face even after a shower or getting wet. OMO is water-resistant and makeup-friendly.
– Made in Korea and is available in two different sizes, 10 mm and 12 mm.
– Vegan-friendly. Users do not have to worry about animal cruelty.
Medtecs OMO Acne Patch is just easy!
1. Start by cleaning and drying the concerned area before applying the patch.
2. Peel off the patch from the sheet by following the direction of arrow 1
3. Apply the patch on the concerned area and gently press it for 5 seconds.
4. Peel off the outer layer following the direction of arrow 2.
And that's it, you're all set! Just remember to replace the patch when it turns white.
Explore the clean, hygienic, and effective Medtecs OMO Acne Patch on Amazon.
About Medtecs
Medtecs and its subsidiaries (collectively, the "Group") commenced operations in 1989 and has since established a strong presence in the United States, Europe, and Asia Pacific.
The Group has offices and facilities spanning across Asia including Singapore, Taiwan, the Philippines, the People's Republic of China, Cambodia, and the United States of America for expansion into the global domestic PPE and medical consumables market. Currently, the Group's headquarters are located in Taipei, Taiwan.
Medtecs is dual-listed on the Singapore Exchange Limited (SGX: 546) and the Taiwan Stock Exchange (TWSE: 9103).
To learn more, visit: https://www.medtecs.com
Media Contact
Company Name: Medtecs International Corporation Limited
Contact Person: Marketing Team
Email: Send Email
City: San Francisco
State: California
Country: United States
Website: www.medtecs.com