Anand Shukla Production's "Life is Good" To Release on Dec 9th, 2022
Starring veteran actor Jackie Shroff, the movie will be released in Hindi and with subtitles for the international audience.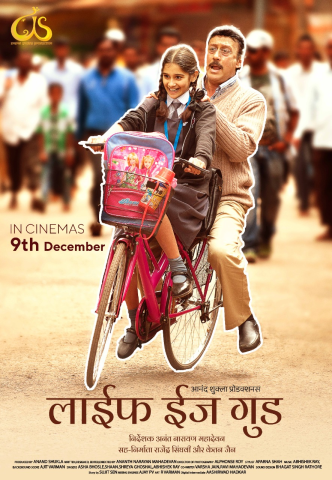 In an interesting development, Anand Shukla Production, a production house based in Mumbai, announced the launch of their Hindi movie Life is good, starring Jackie Shroff in the lead role. Directed by National Award winner, Ananth Mahadevan, Life is good is scheduled to be released on the 9th of December, 2022. Ananth Mahadevan, is a popular Indian screenwriter, actor, and film director of Malayalam, Hindi, Marathi, and Tamil films, and television shows.
Jaikishan Kakubhai Shroff, popularly known as Jackie Shroff, has been in the Bollywood movie industry for the last four decades and has appeared in over 200 films as of 2020. He won the Filmfare Award for Best Actor in 1990 for the movie Parinda, also starring Nana Patekar, Madhuri Dixit, and Anil Kapoor in supporting roles.
The production house has also welcomed popular singers like Asha Bhosle, Shreya Ghoshal, Shan, and Abhishek Ray into the mix and will see Abhishek Ray composing the movie's music. While the movie is planned to be released only for the Hindi-speaking audience, it will also be made available with subtitles for the international audience, which will certainly boost the potential of this much-vaunted movie.
Life is good is an ambitious project by producer Anand Shukla, an Indian Celebrity who mainly works in Bollywood Industry as a Producer. He is known as "A man is but the product of his thoughts. What he thinks, he becomes." The story has been written by Sujit Sen who has written critically acclaimed movies like Arth and Saransh. The associate producer is Rajendra Singhvi.
It goes without saying that Asha Bhosle, Shreya Ghoshal, Shan, and Abhishek Ray are evergreen singers who are known for singing classics such as "Le Gayi", "Deva Ho deva", "Param Sundari", "Chikni Chameli", "Baros Re", "Chand Sifarish", "Apna Has Din", "Aaj Use Milan Hai", "Badli", "Yeh Bearishly", and "Welcome Back- Theme Song."
Media Contact
Company Name: Anand Shukla production
Contact Person: Anand Shukla
Email: Send Email
Country: India
Website: www.anandshuklaproduction.com